Soft
tissue Injury Attorneys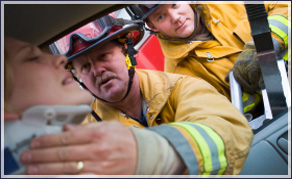 At McDowell Law Firm, LLC, you can get in touch with a Soft Tissue Injury Lawyer who has experience and skill in representing individuals who sustain soft tissue injuries. Soft tissue injuries normally refer to muscles, ligaments, tendons, and other connective tissues in the body, and are often diagnosed as sprains, strains, bruises, abrasions, and so on. Car, truck, motorcycle accidents, and other accidents, often result in soft tissue injuries that cause significant pain to the neck and back, commonly due to a violent back and forth -- whiplash -- motion of the neck in a rear-end collision.
Insurance companies routinely try to unfairly minimize the seriousness of soft tissue injuries and try to avoid paying just compensation to the injured person. The common argument of the insurance companies is that there is not much damage to the car and therefore the person was not injured. If the damage to the car is significant, the insurance companies will argue that damage to the car has nothing to do with the injuries. In such cases, our Soft Tissue Injury Lawyer can represent you in front of the jury in a way that justifies your claims.
Often these musculoskeletal injuries result in muscle spasms to the neck and shoulders that trigger severe headaches that can last for an extended period of time. Emergency medicine physicians often treat these soft tissue injuries with prescription medications such as Percocet, Flexeril, and Ibuprofen 800 mg, and the advice to follow-up with a specialist such as an orthopedic surgeon, or physical therapist. A Soft Tissue Injury Lawyer can help you get the right amount of compensation that you are entitled to.
Having successfully recovered fair compensation for many soft tissue injury cases, we understand the special issues involved in handling a case with such injuries. We understand that soft tissue injuries cause pain and disruption to the injured person's life. Such injuries may require medical treatment and/or physical therapy, and may result in time missed from work, and lost wages. Therefore, you need a Soft Tissue Injury Lawyer to support your case.
If you have suffered soft tissue injuries due to a motor vehicle collision, or other type of accident, McDowell Law Firm, LLC can help. We offer a free consultation to all prospective clients. Call Our Soft Tissue Injury Lawyer at (719) 635-1234 today.