AUTO
ACCIDENT Attorney In Colorado Springs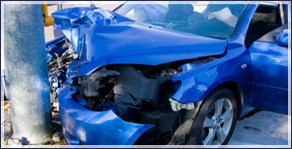 If you've been involved in a car accident in Colorado Springs, suffered a serious injury or lost a loved one due to someone else's negligence, the Colorado law firm of McDowell Law Firm can help. If you need an Auto Accident Attorney, you want McDowell Law Firm. We have helped our clients recover damages for:
Pain and Suffering
Medical costs
Future medical costs
Rehabilitation costs
Lost Wages
Loss of future earnings
And more
While some law firms shy away from jury trials, we don't. Although the large majority of our car accident claims are settled out of court, our reputation for tough litigation provides clients with an important bargaining chip to get full compensation through an insurance settlement.
Our Colorado Springs based car accident lawyers are familiar with typical injuries in auto accidents, motor cycle accidents, car accidents including soft tissue damage, spinal cord and back injuries, broken bones, and injuries to the face and eyes. We don't take a quick settlement – we seek full compensation to meet the current and future needs of our clients.We have helped hundreds of people from Colorado Springs and Denver as well as Aurora Castle Rock, and Littleton, Colorado. Call us now for a free consultation!